You Lost the Weight, Now Lose the Sagging Skin
You did the hard part — you lost the weight! Your reward? Sagging skin everywhere. Yuck! You like your new shape, but not your new skin. Sounds like a body lift with Dr. Herte is in order!
A body lift isn't a single, set procedure. It can involve numerous procedures with the goal of losing excess, sagging skin, revealing your new slimmer contours. Most people think of breast lifts/augmentations and tummy tucks when they think of a body lift. But arm, thigh, and buttock lifts can be just as important to your new look.
As with all surgical procedures at her practice, Dr. Herte consults with you long before your procedure on what your specific needs are. After extensive weight loss, different people's skin responds in different ways, so with Dr. Herte each body lift is unique. The one common thread is that the patient should be at a stable weight when preparing for the procedures. This is important to preclude any additional relaxing of the skin, which could mar the results of your body lift.
Brachioplasty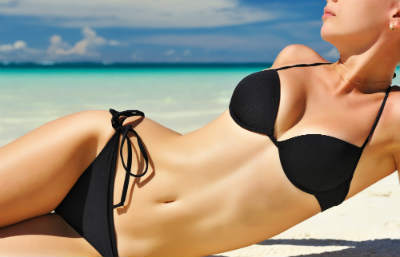 A brachioplasty, arm lift, is the way to address hanging skin on your upper arms that is loose and flappy. In cases of massive weight loss, the incision will usually run from the elbow to the armpit on the inside of your arm.
Buttock and thigh lifts
These procedures are usually performed together in a body lift. In the combination procedure, the incision extends from the groin crease at the top of the thigh, around the crease between the legs, and along the buttock crease line to your outer thigh. Excess skin is removed and the skin is released and lifted, anchoring and tucking the skin into the groin crease on either side of the pubic area. Excess buttock tissue can be used to enhance your buttocks if they have flattened due to your weight loss.
Breast lift with or without augmentation
A breast lift is a common component of a body lift, bringing the breasts back up to a younger position and removing sagging skin. Due to the loss of tissue, patients often opt to have augmentation along with the lift.
Tummy tuck
Since this is the area of the body that the patient sees in the mirror every day, a tummy tuck is a standard component of a body lift. Likely a full tummy tuck, including muscle repair, will be necessary to remove excess skin and fat and achieve the flat abdomen area desired.
If you've lost that weight and are unhappy with your hanging skin, call Dr. Herte at 702-732-9600 and let's discuss your body lift options.