Home
/
Body Sculpture Las Vegas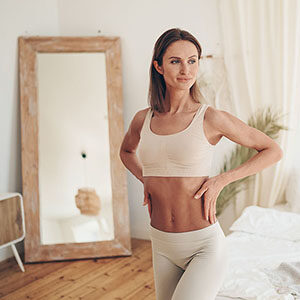 Body Sculpture embodies a variety of procedures that deal with improving the body shape and balance of the figure. Our practice includes a full spectrum of options to treat the total patient. Surgical procedures include: Liposuction for reshaping excess fatty deposits, Abdominoplasty or Tummy Tuck for treatment of loose skin and muscle of the abdomen and Body Lifts for removal of excess skin and fat of the arms, thighs and buttocks. Fat grafting can be used to re-allocate fat cells from areas of excess to areas that require additional fullness (breast/ buttocks/ hollows). CoolSculpting® is another extremely effective body sculpting option for fat reduction that is totally non-surgical.
Liposuction is an excellent contouring procedure for improving figure balance and your overall silhouette, as well as the key to obtaining fat for grafting procedures to enhance and balance body shape or for facial contouring. Dramatic or subtle changes can be obtained with little downtime. CoolSculpting®, the newest option for fat reduction that is totally non-surgical, is also available in our Las Vegas practice.
Abdominoplasty or Tummy Tuck can remove excess skin and can tighten overstretched abdominal muscles which result from weight fluctuation or pregnancy. Tummy Tuck is an integral part of a "Mommy Make-over". Regaining your shapely waistline and the added bonus of relief of chronic low back pain are both related to restoring the normal abdominal muscle position and tightness through Abdominoplasty.
Body Lifts are another area of Body Sculpting that we offer at the Herte Center for Cosmetic Surgery, including Arm Lifts for flabby upper arms, Thigh Lift and Buttock Lift for excessive looseness of the skin.
Dr. Mary Herte offers a broad spectrum of Body Sculpting procedures. That allows us to customize your Body Make-over to meet your goals. From minor C-section scar revision or non-surgical CoolSculpting® fat reduction, to removal of excess skin resulting from massive weight loss or for body restoration after pregnancy, Dr. Herte is your source to help you evaluate your options and create a plan that works with your lifestyle and needs and allows you to achieve your personal best. Our team at the Herte Center for Cosmetic Surgery in Las Vegas welcomes you for a personalized approach to Body Sculpting!