Facelift Surgery Las Vegas, NV
A smooth and firm jawline, a defined neckline without sagging skin. Smooth full cheeks. These are the signs of a youthful face. When sagging facial structures begin to make your face look tired and worn, restoration of the youthful and firm contours of the face can be transforming, both physically and mentally. Many patients experience a greater energy and feeling of well-being after facelift surgery, when the image they see in the mirror finally matches the zestful and youthful way they feel inside. Looking good is a great energizer.
With her wide experience with both surgical facial rejuvenation as well as non-surgical techniques, Dr. Mary C. Herte can help you achieve the most natural and least invasive facial rejuvenation at our Las Vegas cosmetic surgery practice.
---
Turn Back the Clock on Age with a Facelift in Las Vegas
Facial aging changes include progressive loss of elasticity of the skin, with visible wrinkling from repeated creasing as well as looseness of the skin with excess hanging skin along neck, jawline and cheeks. Deeper tissues become lax and sag as well, adding to your overall tired and worn appearance. There is no substitute for surgical repositioning of sagging deep tissues and removal of the excess skin in rejuvenating your appearance. Facelift surgery creates the foundation that supports the many other rejuvenating enhancements that keep your result looking natural and fresh.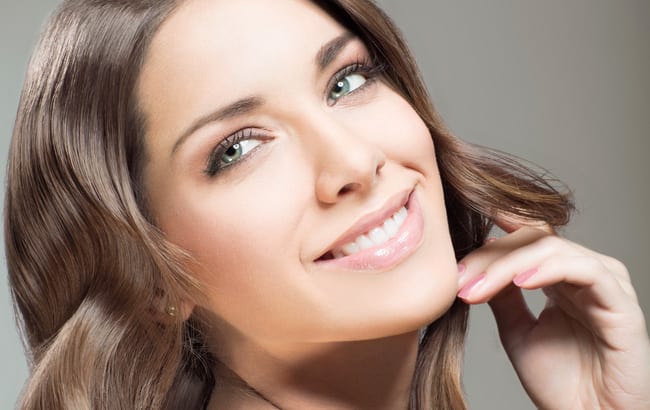 The aging process is different for everyone and there is no special age at which facelift surgery should be done. Your number age is not important. The critical issue is what you see when you look in the mirror. Facelift is the best and most reliable treatment for loose skin of the cheeks and neck, neck banding and under-chin fat pads, as well as sagging of the cheeks, jowl and jawline. Early surgical treatment can actually improve the longevity of your result, since more elastic and youthful skin quality can hold your lifted result much longer.
When surgical facelift is performed, the clock turns back, but it continues to tick. So the length of time you remain satisfied with your new fresher appearance depends on the quality of your skin, how quickly you are aging, and most importantly, how well you take care of yourself after your surgery. Following your surgery, maintenance with aesthetic injectables and medical skin care or laser resurfacing can be invaluable in preserving your result.
---
Common Concerns about Facelift Surgery
The most common concern that patients express is a worry that they will no longer look like themselves after surgery. We see this problem all too often with recognizable stars who lose that certain "something" in the process of trying to restore youth. We see obvious and unpleasant facelift results around us. That could give anyone pause in considering surgical facelift. Those aesthetic missteps are in reality only a tiny fraction of the many, many facelifts that you look at every day. You only see the ones that stand out (badly), and not the truly fabulous results that give a refreshed and rested look.
Too many stars choose to do too many procedures too often, and end up looking artificial. Most patients will rarely need a facelift more than once or possibly twice in their lifetimes. Of course we hope that your long, healthy and active life will lead you to consider that second or third facelift! Dr. Herte can help you choose the right timing and help you customize your facial rejuvenation to choose the best procedure to keep that natural and fresh look.
---
Customizing Your Vegas Facelift Procedure: Many Options are Available
Dr. Herte believes in a problem solving approach to facial rejuvenation, identifying those areas that concern you the most and targeting your procedure to address those issues, while preserving your special features. A customized approach is key to getting the most natural and fresh result. The least invasive facelift approach possible can be tailored to fit your special needs.
Many times, a facelift alone, in someone who has lost facial fullness, can create an over-pulled and tight look that doesn't look younger, just over-done. Sometimes, choosing the most minimal procedure can cause more pulling than a more classical facelift because the skin is just pulled and the facial tissues are not repositioned. In customizing your facelift procedure, Dr. Herte can preserve your special qualities and restore your foundation structures. The addition of volume and the proper direction of lift are essential in restoring and freshening your face without changing your essence.
Whether you consider full facelift, necklift or even mini-facelift at the Herte Center for Cosmetic Surgery, Dr. Herte will help you personalize the procedure to meet your personal beauty goals and help you understand the role of supporting procedures in getting you the most natural and long lasting results possible.
---
Schedule a Facelift Consultation in Las Vegas
If you have questions about how facelift surgery can enhance your facial appearance with a firmer and fresher look, contact our Las Vegas cosmetic surgery center today, and speak to our knowledgeable and caring staff. An in-depth consultation with Dr. Mary Herte will allow you to decide if facelift is your best choice for turning back the clock while preserving your natural individuality and giving you that youthful boost. Schedule your consultation today in Las Vegas.