Home
/
Breast Procedures Las Vegas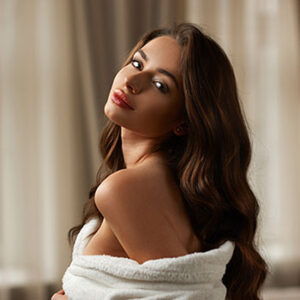 As a woman, Dr. Mary Herte has a special understanding of a woman's concerns about her breasts. Breast enhancement has long been an area of special interest and expertise for her practice, and an area where she has been in great demand. Minimizing scars wherever possible, placing them in the least noticeable areas, and striving to create the most natural appearing and feeling breasts are her primary goals. Breast augmentation is customized to the patient's desired style, from petite to proportioned to flashy or even outrageous. We balance the pros and cons of each surgical approach and choose a size, shape and style of implant to bring you the best possible results. Dr. Herte can recommend both silicone gel filled implants and saline filled implants depending on your individual anatomy and personal desires.
If you have lost volume in the breast from weight loss or pregnancy, and an implant alone will not restore the fullness and balance of the breast, a mastopexy or breast lift may be recommended to reduce excess breast skin and improve firmness. This can be accomplished with a saline or silicone breast implant to increase your breast size or without an implant to simply repackage and firm your breast and stay the same size.
Surgical reduction in size of the breast can also be done, firming and lifting your breast while reducing your cup size. Personalization of the surgical approach and incisions achieve the best results with the least scar. Breast reduction on only one side can also be helpful in improving symmetry when one breast is larger than the other.
Breast enhancement techniques can also be used after lumpectomy or mastectomy to restore the breasts and achieve better symmetry and normalcy.