Liposuction Las Vegas, NV
Lose Unwanted Fat through Liposuction in Las Vegas
For many of us, eating a healthful diet and exercising regularly are not enough to banish those frustrating deposits of fat in the waist, hips, thighs, and other areas of the body. Liposuction is a plastic surgery procedure that helps defeat these stubborn fat pockets and create smoother, shapelier body contours. Liposuction at our Las Vegas cosmetic surgery practice is a safe and highly effective figure sculpting experience that may also boost your self-confidence.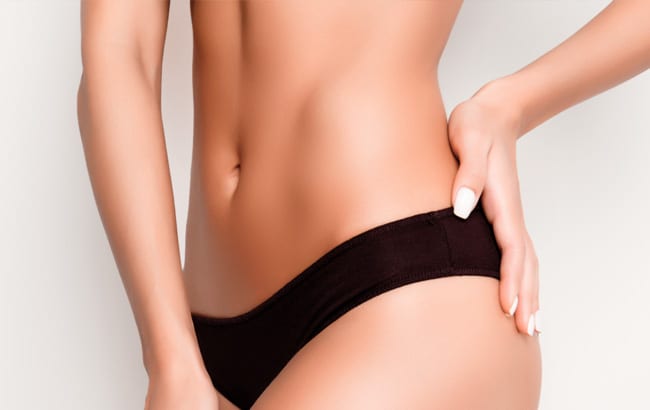 ---
Liposuction Options
One of the most popular cosmetic surgery procedures today, liposuction is the most highly customizable and effective fat removal procedure available. Liposuction contouring can be utilized in many different areas of your body to restore figure balance, including thighs, buttocks, waist, hips, upper arms, and even the neck and chin areas. Results ranging from highly dramatic to subtle are possible through careful sculpting. If you have lax skin or abdominal muscles following pregnancy or weight loss, liposuction can be performed in combination with tummy tuck surgery to help you enjoy the firmer, flatter abdomen of your dreams.
Ultrasound for Liposuction in Las Vegas
With the use of the External Ultrasound method, Dr. Herte adds a refinement to her lipo-sculpture procedures. This helps loosen fat cells, which helps remove them and allows Dr. Herte to use smaller liposuction cannulas for more refined results. Ultrasound also helps maximize skin-tightening for a firmer result.
---
Technique Meets Technology
Our esteemed cosmetic surgeon, Dr. Mary C. Herte, was fortunate to train with French Plastic Surgeon, Dr. Yves Gerard Illouz (the developer of our current liposuction procedure), who shook the cosmetic surgery world with this revolutionary technique that finally made fat removal practical and also possible through very small incisions. Because Dr. Herte is focused on superior results and your safety, as technology has progressed she has continued to incorporate innovative improvements into her surgical techniques. By staying up to date on liposuction advancements, she is able to achieve optimal results for liposuction patients of our Las Vegas cosmetic surgery practice.
The CoolSculpting® Liposuction Alternative
If your schedule does not allow time for surgical recovery, we now offer the non-surgical fat reduction alternative of CoolSculpting® as a means of freezing away unwanted fat. Although the liposuction process results in instant removal of fat and the ability to blend and contour more accurately many areas in a single procedure, CoolSculpting® is a no down-time option if can accept a gradual process of fat cell removal. Check out our information on CoolSculpting®.
---
FAQs
What is liposuction?
Liposuction is a plastic surgery procedure that removes excess fat from specific areas of the fatty excess in your body to improve body contour. The procedure can reduce localized fat deposits that are resistant to diet and exercise in the thighs, hips and buttocks, waist and abdomen, upper arms, and chin area. Liposuction can be done alone or in conjunction with other plastic surgery procedures, such as a facelift or a tummy tuck.
Who is a good candidate for liposuction in Las Vegas?
The best candidates for liposuction are adults who are close to or at their ideal weight and have firm, elastic skin, good overall physical and emotional health. Perfect situations rarely exist and most patients can enjoy an excellent result as long as their individual goals are reasonable for the specific procedure. A personal consultation with Dr. Herte will help you decide if you are a good candidate for this procedure.
What can I expect during the liposuction procedure?
Prior to the procedure, anesthesia will be administered by a board certified anesthesia physician to keep you comfortable. Dr. Herte utilizes the External Ultrasound method to help loosen and liquefy fat cells, making them easier to remove. This method also enables Dr. Herte to use smaller liposuction cannulas. Once the fat is liquefied by the injection of fluid to reduce bleeding and help separate the fat cells, a small cannula is used to make small tunnels through which to remove the excess fat cells. The External Ultrasound method is also known to help maximize skin tightening after liposuction.
What can I expect for recovery after liposuction?
It is common for patients to temporarily have bruising, swelling, and numbness in the treated area after liposuction. You will probably feel sore for the first few days after the procedure. Dr. Herte will provide you with pain management techniques and medication to help alleviate most of the discomfort. You will be advised to wear a supportive garment throughout your recovery (about 6 weeks) which helps the skin tighten and adhere to its new contour. Recovery varies for every individual, but the majority of our patients are able to return to work within a week or so after the procedure. Strenuous jobs may require a longer recovery.Prior to having your procedure, Dr. Herte and her staff will provide you with a complete plan for a safe and rapid recovery. This plan will include both pre-operative and post-operative recommendations and instructions.
What are expected results after liposuction?
You will notice a difference in size and shape of the treated areas fairly quickly. The results of liposuction will continue to be refined and improved over the course of a few months following the procedure.
How much does liposuction cost in Las Vegas?
The cost for liposuction varies depending on the areas to be treated. Feel free to call us at
702-732-9600
for approximate current price ranges. To find out whether liposuction is right for you and the exact cost for your customized procedure, a personal consultation with Dr. Herte is required.
---
Schedule a Liposuction Consultation in Las Vegas
If you are interested to learn how liposuction body sculpting will benefit your figure and to get personalized answers to your concerns, your next step is to meet with Dr. Herte. So contact our Las Vegas, Nevada cosmetic surgery center today to schedule your personal consultation with Dr. Mary Herte and get started on that sleek new figure.