Home
/
Facial Rejuvenation Procedures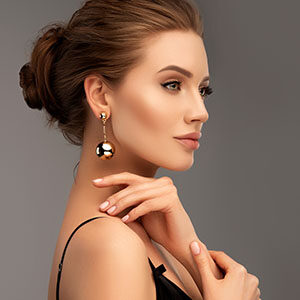 Facial rejuvenation is the process of restoring your facial structures to a more youthful appearance, with beautiful skin and firm, smooth facial contours. Our goal is to turn back the clock in a way that retains your natural unique look and doesn't make you look like someone else. In addition, other facial enhancements, such as Rhinoplasty or Chin Augmentation, can achieve improved facial harmony at any age.
With her wide experience with both surgical facial cosmetic procedures as well as non-surgical techniques, Dr. Mary C. Herte can help you enhance your appearance and keep you looking fresh and natural with the least invasive facial rejuvenation procedures at our Las Vegas cosmetic surgery practice.
Aging Prevention And The Role Of Maintenance
Most people do not realize the role that sun damage plays in the aging process. While inevitable gravity effects and the constant pull and crease of ever-changing facial expressions play their role in aging, sun exposure and tanning cause most of the damage that we identify as aging. Protection with sunscreen and avoiding direct sun exposure can slow the aging process and preserve your facial rejuvenation results.
Dr. Herte believes that preventive care and maintenance are critical to keeping a youthful look. Regular maintenance can delay your need for surgical facial rejuvenation, and even after surgery, protect your results for years longer. Preventive non-surgical procedures include BOTOX® to reduce the pull and repeated creasing of your over-active facial expressions; injectable fillers can soften lines and support the area to prevent deepening the crease and re-making it. Loss of your youthful facial fullness can also be restored with injectable fillers. Medical skin care facials can stimulate the natural repair mechanisms of the skin and improve skin clarity and freshness. Laser resurfacing, like Fraxel®, can give you new skin cells and reduce sun changes.
Critical Role Of Surgical Facial Rejuvenation
Surgical rejuvenation is the foundation step for restoring your youthful look. Sagging skin, puffy eyes and a heavy tired appearance can detract from even the most glowing and beautiful skin and smile. When you begin to see skin looseness and bunching, surgery is the only reliably effective alternative. Facelift, Necklift, Eyelid Lift (upper and lower eyelids) and Browlift are excellent ways to re-position skin and deeper tissues and remove excess skin. Mini-face lift can be an excellent alternative when early treatment is embraced, but does not address laxity in the neck area due to its limited scope. Other procedures, such as Rhinoplasty and ear surgery, can create greater facial harmony and shift emphasis back to your best facial features. Many times surgery is the only way to restore your firm and youthful facial contours.
Dr. Herte's surgical focus is on limited incisions, reduced invasiveness and maintaining your natural and individual look. These goals always need to be balanced with effectiveness and long term results. A one size "miracle lift" can never substitute for careful attention to detail, meticulous surgical technique and customization of procedures for each patient.
Navigate The Complexities Of Facial Rejuvenation With A Consultation
The complex forces causing visible signs of aging, the myriad of treatment options, both surgical and non-surgical, and the progressive and dynamic nature of the aging process, make facial rejuvenation a complex and confusing topic. Consultation with Dr. Herte can help you navigate the many options and develop a treatment and maintenance plan.Our knowledgeable and helpful staff welcomes your questions about how we can keep you looking fresh and natural. Please contact our Las Vegas cosmetic surgery center today, to talk with us or to schedule your consultation with Dr. Mary Herte to create your rejuvenation beauty plan.