Hollie Tyler, APRN Aesthetic Specialist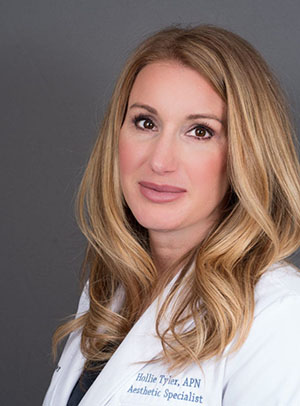 Hollie Tyler is an aesthetic specialist and is a welcome addition to the Herte Center Team. She is an Advanced Nurse Practitioner who has extensive experience in Aesthetic Injectables. Her post-graduate nursing degree as a Nurse Practitioner was obtained from the University of Utah in Salt Lake City. She has been a Las Vegas resident since 2011 and started her career here in Emergency Medicine, working in various Las Vegas Valley Emergency Departments. Once she was introduced to Aesthetic Medicine in 2014, she changed her career focus and went on to become an Allergan Master Injector and has served as Instructor in Aesthetic Injectables for NIMA. She was one of the first Las Vegas injectors to begin using Kybella®. Hollie brings broad experience in Wellness and Aesthetics, has provided a variety of services for her patients from medical weight loss to laser treatments and CoolSculpting®, and of course Aesthetic Injections, such as Botox and fillers including Juvederm®, Sculptra®-, etc. She loves the challenge of Aesthetic Practice and the opportunities and advancements that accompany new techniques and technologies in the field of Cosmetic Medicine.
In the fall of 2022 Hollie became one of the few providers who was hand-selected to represent Allergan as an Allergan Medical Institute Injector. She has been featured as the forefront for involvement in product development and was one of the first injectors within the Vegas market to provide feedback and injection technique for Juvederm Volux. Hollie continues to enrich and grow the market by providing in-office training to help inform and educate injectors on best principles and Aesthetic trends within the industry.
Hollie believes in maintaining natural beauty in her work and revels in the beauty of nature in her personal life. With her family (dad and brothers), Hollie holds the Guinness World Record for the most family members completing an Ironman Triathlon together! She enjoys hiking, camping and generally spending time in the outdoors with her husband and 2 children. As a Nurse Practitioner and an experienced injector, Hollie is available to schedule Aesthetic Injectable Consultation as well as Injection Procedures. As always, Dr. Herte will also continue performing injections at the preference of the patient. It is our hope that Hollie will reduce injection wait times for our patients and expand our availability for all services. She will also be taking on additional duties in the practice including CoolSculpting® Consultations, Hair Growth Stimulation PRP treatments, as well as prescribing skincare topicals and assisting Dr. Herte with pre-surgery Physical Exams and in Surgery.
Call today to schedule your consultation and treatment with Hollie Tyler.
Omita Kumar, Licensed Advanced Aesthetician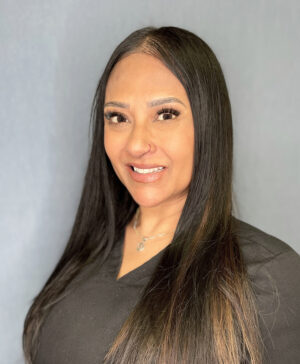 Omita is a very passionate and experienced Licensed Advanced Aesthetician. She has over 18 years' experience in the medical field. She has a master's degree in yoga therapy, which aids in her ability to relax and heal the body and mind.
Education is extremely important to Omita. She strives to be an expert in her field by always keeping up with the newest skincare products and treatments. Her goal is to teach each patient about their unique skin and what can be done to address and treat any skin care concerns. As patients become more knowledgeable about their skin and how to care for it, they will enhance their overall natural beauty. Omita wants every patient to walk out of her treatment room happy, glowing, satisfied and educated.
Omita grew up in a suburb of Milwaukee, Wisconsin and moved to Las Vegas in 1991. Omita comes from a family of doctors. Her father was a physician in both Wisconsin and Las Vegas. She is very close with all her family and enjoys spending quality time with them as much as possible. Omita's greatest joy is her nineteen-year-old daughter, Amaya, who also has a passion for aesthetics and is following in her mother's footsteps by choosing a career in cosmetology. When Omita isn't in the treatment room, she enjoys spending time with her family and practicing yoga postures, breathing, and meditation.
Cathy Hules, Practice Administrator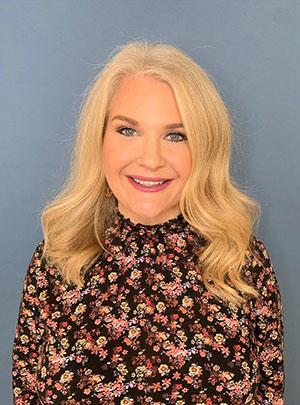 Cathy Hules is originally from Southern California. She moved to Las Vegas in 1998 and currently resides in Spring Valley with her husband, Arte, and children, Billy and Savannah.
Cathy has over 20 years of experience in small business ownership and management with the most recent seven years in the medical field managing practices specializing in dermatology, plastic surgery, fertility, and multi-specialty ambulatory surgery centers. Cathy has extensive experience and expertise in accounting, human resources, business development, marketing, operations, team building, facility management, and ASC development and compliance. Cathy has always had a great passion for plastic surgery and is very happy to have joined the Herte Center in 2019.
Cathy received her Bachelor of Science in Business Management from Western Governors University. She currently serves as a founding board member for a local charter school, overseeing financial, compliance, and human resource matters. In her free time, Cathy enjoys concerts, ballroom dancing, hiking, musical theater, and spending quality time with her friends and family.
Debbie Petersen, Registered Nurse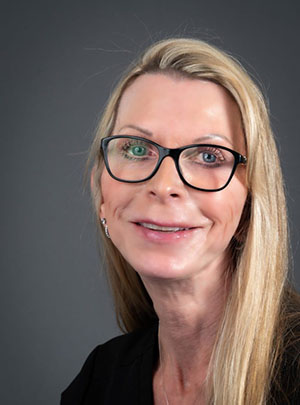 Debbie Petersen is a Registered Nurse who has worked for the Herte Center for Cosmetic Surgery since March 21, 2005. She is in charge of our AAAASF accredited outpatient facility. Besides being in the operating room, she is also certified to do CoolSculpting, fractional laser resurfacing, IPL and Yag laser. She enjoys using PRP after laser resurfacing (also referred to as the vampire facelift) due to the fabulous results.
She graduated from Loma Linda University in Southern California in 1977 with a Bachelor of Science in nursing. She worked at Loma Linda University for ten years in their Cardio-Thoracic ICU prior to moving to Las Vegas. She has worked in several outpatient surgical facilities in Las Vegas since 1985. This has involved working pre-op, post-op, and operating room nursing.
She enjoys being outside, running, walking, and hiking. She has run 0ne 50K, several marathons, and many half-marathons. Her most cherished moments involve spending time with her husband, Wayne, and her three daughters. She is proud and happy to be a member of the "Team Herte" family.
Cristina Chadwick, Patient Care Coordinator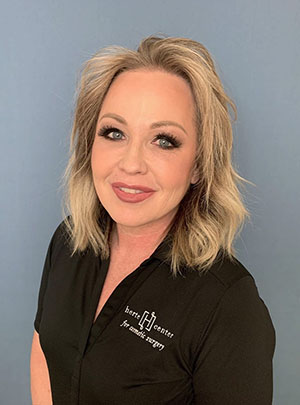 Cristina was born and raised in Flagstaff, Arizona. She became a Nevada resident in 1997. After receiving her Medical Assisting degree and EMT Certification in 1998, she started her medical career as a back office medical assistant for a fast-paced internal medicine practice. After working there for seven years, she began to explore the specialty of cosmetic surgery. In 2003, she began working for another cosmetic surgeon in the Las Vegas valley and eventually became his office manager. Cristina joined the Herte Center in 2010 as our Patient Care Coordinator. Cristina provides her knowledge and experience to every person who makes an inquiry about cosmetic surgery.
She is there with patients from the first time they call through their consultation, surgery preparations, and throughout their recovery. She enjoys the connection she makes with every patient, many of whom she stays in contact with after their surgical journey. Cristina is very passionate about what she does for the Herte Center, which is evident when you interact with her. She continues to educate herself and her patients while working closely with Dr Herte. "I am fortunate to be learning from the best! Not only is Dr. Herte a great surgeon, she's a great educator."
Cristina is a devoted mother to two beautiful children and values her time spent with her family. She enjoys graphic design and crafting new projects for her home and for the holidays. She enjoys being a "softball mom and soccer mom" and spends most of her free time on the bleachers at the fields.
Leticia Saenz, Patient Care Coordinator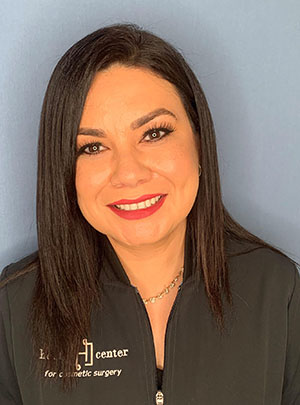 Leticia "Leti" is originally from Mesa, Arizona. She has been a Las Vegas resident since 1983. Leti started her medical career as a Medical Assistant in infertility in 1999. She worked in infertility for over 20 years. In 2021 she decided to make the change to plastic surgery and loves it!
Leti resides with her fiancé and her beautiful daughter, Mikayla, who is a sophomore at UNLV. Leti enjoys spending time with family, crafting, and taking care of her Pitbull, Baloo.
Leti loves being a Patient Care Coordinator at the Herte Center. She enjoys learning about aesthetics and providing the best experience for her patients throughout their journey at the Herte Center.
Yesenia (Yesy) Gaitan, Medical Assistant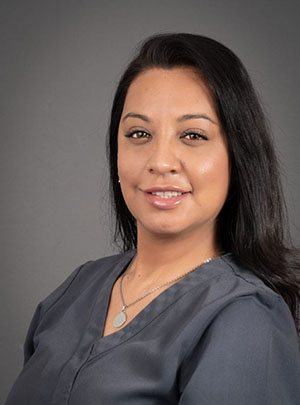 Growing up, Yesy saw her mom's struggle to find any compassion in the healthcare field and knew from an early age that she wanted to make a difference and provide that compassion that is so often neglected. Yesy started her healthcare career in 1999 working for a Primary Care Physician in Ontario, California. After moving to Las Vegas with her family, she worked for a woman's specialty doctor before coming to the Herte Center for Cosmetic Surgery. Yesy is an integral part of the before and after care provided to our patients.
John Bassett, Surgical Tech/Outreach Marketing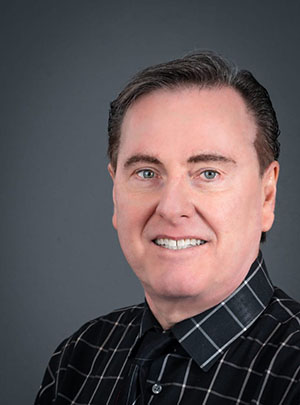 Born in Minneapolis, Minnesota, John Bassett grew up on a farm in central Texas. His family moved to Hollywood, California in 1973 where he graduated from Hollywood High School in 1977. He graduated Los Angeles Valley College in 1985 with AA degrees in political science and piano. John became a licensed real estate Realtor in 1981 and served as a Century 21 Hollywood agent for 12 years.
In 1993, John graduated from Glendale Career College with an AA degree in surgical technologist. He then graduated Tech School with the highest GPA in the school. John started his medical career at the Martin Luther King Drew Medical Center in their trauma/emergency room department. He spent a year-and-a-half at MLK and then spent two years at the Children's Hospital L.A.
John was then recruited by the head of the plastic surgery department at Camden Aesthetic Clinic in Beverly Hills to be his private tech. He worked for various plastic surgeons in Beverly Hills before moving to Las Vegas in 2003. Once in Las Vegas, John worked at Desert Orthopedics for a year-and-a-half, followed by several months at Desert Springs Hospital before being hired by the Herte Center in February 2005.
Outside of the medical field, John has been in sales and marketing throughout the entirety of his adult life. He is a music lover and enjoys catching live shows. He also enjoys outdoor sports of all kinds, especially basketball and tennis. John is a published poet, having written over 2,000 poems. 40 to 50 of his poems have been published in anthologies, books, and magazines.
Leilani Mendez, Registered Nurse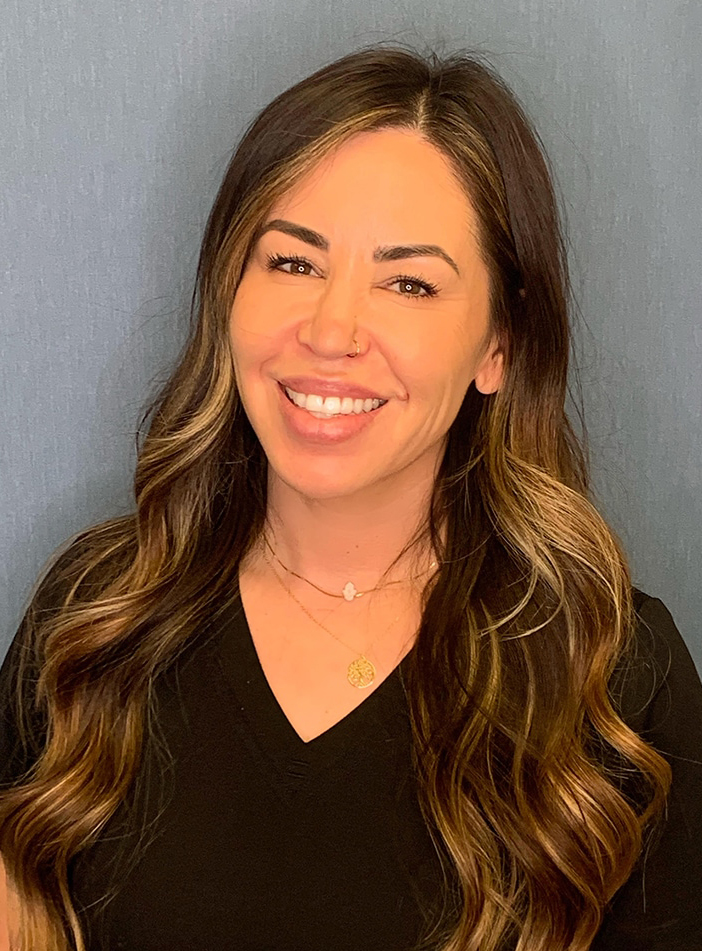 Leilani is a Registered Nurse who was born and raised in California and moved to Las Vegas in 2005. She currently resides in Henderson with her wife, daughter, 2 Huskies and German Shepherd dogs. Before becoming an RN she was an aesthetician here in Las Vegas and still loves everything skin care. She has a passion for plastic surgery and aesthetics. After graduating with her BSN, Leilani attended a neurotoxin and dermal filler program and currently holds a certificate for cosmetic injections. She has worked in other surgery centers for pain doctors and orthopedic surgeons which gave her the experience she now utilizes here at The Herte Center.
Leilani's role here is to take care of patients in all phases of surgery including preop, intraoperative, and PACU. Leilani feels very lucky to be a part of the team! When she is not working, Leilani enjoys weight training, spending time with her family and their 3 dogs, and traveling.
Tina Ferrario, Registered Nurse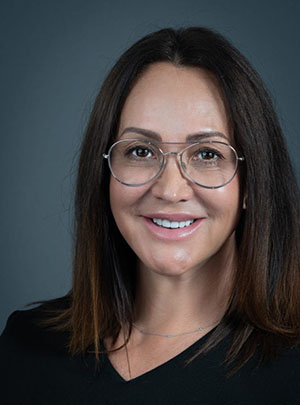 Tina is a native of Las Vegas and has worked as an R.N. since 1992. Her career has included working at Sunrise Hospital and the UMC Trauma Center. Tina was involved in pioneering the Pediatric E.R. at Sunrise Hospital. She was also a part of the transport team in the PICU. Working for UMC provided a wealth of nursing experience. She continued her career in the Trauma Center working as a staff R.N. and relief charge nurse in the Pediatric ICU and Pediatric E.R. Her career experiences in leadership, teamwork, and giving the highest level of care to patients helped prepare her for her career with Dr. Herte.
Tina joined the Herte Center team in April of 2013. She welcomed the opportunity to diversify her career and experience the unsurpassed care given to the patients at the Herte Center. With her participation in many parts of the practice, her forte has been perfecting the patient experience and results using the CoolSculpting technology. Tina is also certified and experienced to treat patients using IPL and ResurFX.
Stephanie Cearlock, Registered Nurse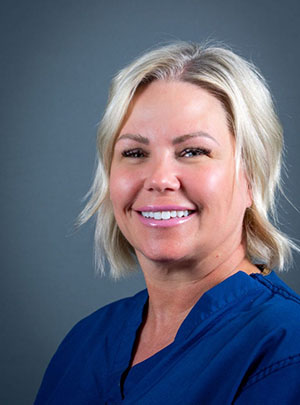 Stephanie is originally from Ohio. She graduated from The Ohio State University College of Nursing in 1991. She was accepted into a critical care fellowship at Riverside Methodist Hospital where she rotated through all the intensive care units, step down units, and the emergency department. She chose to work in the neurosurgical intensive care unit where she worked for three years. She then decided to accept a job in the neonatal intensive care unit. She worked there until she and her husband moved to Las Vegas in 1998.
She decided to put her career on hold and stay home with her daughters. Thirteen years later, she decided it was time to go back to work. She accepted a position at Steinberg Diagnostic in special procedures. She has been there ever since. She also added a few surgery centers along the way including Surgical Arts, Parkway Surgery Center, and most recently, Green Valley Surgery Center. These have given her experience in eyes, orthopedics, pain management, endoscopy, colonoscopy, and ENT. She also can be seen on the Las Vegas Day School and Bishop Gorman campuses as the substitute nurse.
She joined the Herte team in 2018. She takes care of the patient during the preoperative, intraoperative, and postoperative phases of the surgery. She loves working at the Herte Center because the level of care is at the highest as the staff is amazing and supportive. She says working for Dr. Herte is an honor, and she feels very lucky to be apart of the Herte team. When Stephanie isn't working, she enjoys spending time with her husband of 25 years, visiting their daughters at their out-of-state schools, playing with her Goldendoodles, and of course, watching Ohio State football.
Tracey Tello, Certified Surgical First Assist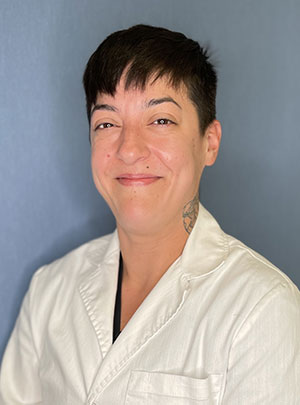 Tracey was born in Columbus, Georgia. Her mother was a Georgia girl and her father was from Ecuador. In fact, she spent several summers in Ecuador as a child. Growing up, she was around horses and cattle, enjoyed fishing on the weekends, and rode dirt bikes. In 2008 Tracey attended Columbus technical college where she earned her degree in Surgical Technology. She later moved to Atlanta, Georgia in 2010. In 2013 Tracey graduated from Meridian Institute of Surgical First Assisting in Nashville, Tennessee. In 2020, Tracey and her fiancée, Corey, made Las Vegas their new home with their cat, Mr. Business.
Tracey has operated in numerous specialties from open heart to general oncology, but the majority of her operating room experience is in plastic & reconstructive surgery, gynecology and obstetrics (labor and delivery), general surgery, orthopedics, and ophthalmology. She says her favorite specialty is of course plastic surgery!!! Over the years Tracey has operated with world-renowned surgeons across the United States.
In Tracey's spare time she enjoys concerts, vacationing in new places, trying new restaurants, and spending time with loved ones. Her favorite food is BBQ and she is not a fan of heights, but loves a good view.
Business Office Dept