CO2 Laser Skin Resurfacing Las Vegas
What is CO2 Laser Resurfacing?
Years of unprotected or prolonged sun exposure, combined with normal vigorous facial expressions, can produce a weathered, wrinkled and dull complexion. The gold standard in providing skin rejuvenation for sun damaged skin is the CO2 laser. While many patients cannot afford the long healing time associated with this highly effective skin resurfacing technique, it remains the best wrinkle reducing treatment available. At our Las Vegas cosmetic surgery practice, you can discuss whether your skin condition and lifestyle make you a good candidate for this intensive skin rejuvenation procedure. Dr. Mary C. Herte has been performing CO2 laser procedures for her skin rejuvenation patients for over 20 years, using her own in-house CO2 laser, and can help you achieve the fresher, softer and smoother skin you desire.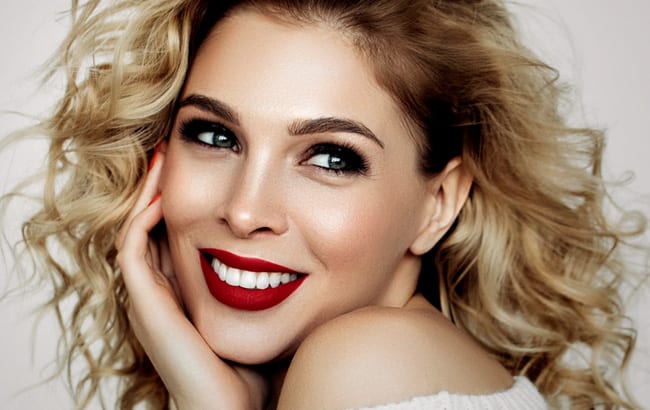 ---
Is CO2 Laser Resurfacing Right For Me?
Because CO2 laser resurfacing can reduce visible skin wrinkling by over 50%, it is the best and most effective skin resurfacing procedure available today. Excellent improvement in fine lines, general texture and reduction of troublesome pigmentation are commonplace after CO2 laser treatment, but it is best known for dramatic improvement in deep wrinkling. In addition, firming and tightening of the skin are seen as a result of the heat produced by the laser treatment, giving a slight lift effect. Acne scars can also be effectively smoothed with CO2 laser resurfacing. Most patients can achieve a full 50% improvement in acne scarring after treatment. While the traditional choice for acne scar treatment is surgical dermabrasion, Dr. Herte feels that she has more precision with CO2 laser with much better control of treatment depth. Patients also find that the healing process after CO2 laser is much less uncomfortable than after surgical dermabrasion. Excellent results can be achieved with only a single treatment. And because general anesthesia is recommended for CO2 laser, the actual procedure is painless.
---
What are some of the side effects of C02 Laser Resurfacing?
Choosing CO2 laser resurfacing requires a large time commitment to the actual healing process following laser (up to 2 weeks of weepy healing skin) plus working with skin pinkness for weeks to months afterward, depending on your individual skin sensitivity, until your fragile skin thickens and strengthens after the procedure. Make-up can be worn to tone down the pink, but care must be taken to avoid sun exposure or irritation during this time. Patients with darker skin tones are not good candidates for CO2 laser because the strength of the laser can overly reduce your normal pigmentation, leaving your facial complexion too pale to match the rest of you. Patients with fair skin get the most natural results following CO2 laser resurfacing. In addition, only the facial skin can tolerate this intensive treatment. Therefore, patients with sun damaged skin of the neck with over-pigmentation or more olive tone to the skin may see a demarcation line under the jawline, despite our best efforts to blend and feather the laser treatment onto the neck. If the contrast between treated face and untreated neck will be too great following CO2 laser resurfacing, another resurfacing approach should be considered on the neck for better blending (i.e. ResurFX® Laser Resurfacing or TCA chemical peel).
---
Consider CO2 Laser for Maximum Results
While CO2 laser resurfacing is a major challenge in terms of healing and recovery, it consistently delivers maximum results. Your careful consideration of the pros and cons of this highly effective procedure can bring you the extremely high success rate, patient satisfaction and dramatic results that make this procedure a time proven approach to skin wrinkling and acne scarring.
Schedule a Skin Rejuvenation Consultation in Las Vegas
If you have questions about whether you should consider CO2 laser treatment for a dramatic improvement in your facial skin, Contact the Herte Center for Cosmetic Surgery today, and speak to our caring and well-informed staff. A personalized consultation with Dr. Mary Herte will allow you to discuss your concerns and lifestyle issues and choose your best skin rejuvenation program for a fresher, smoother and younger looking complexion. Schedule your consultation today.