3 Things to Know About Bra Cup Size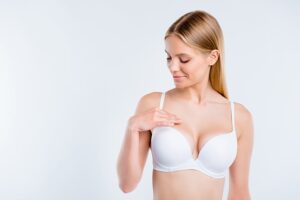 When breast augmentation surgery is performed by an experienced provider, the results can be life-changing. A fuller, more proportionate bustline can boost your self-confidence and contribute to a more feminine figure. Our board-certified plastic surgeon, Mary C. Herte, MD, has extensive training in customizing breast procedures to complement each patient's unique needs, goals, and contours.
If you have just received breast implants, you probably have a lot of questions – many of which may concern bras and cup size. Dr. Herte has noticed that a number of patients seem particularly concerned about choosing the right cup size after getting breast implants, so she has put together a list of tips to consider when searching for a new bra after breast augmentation.
1. Band size is just as important as cup size.
Dr. Herte stresses that while many women believe the fit of a bra depends solely on cup size, band size is just as crucial. Women sometimes wear overly large bands because they believe their breasts will stay in place more effectively; in reality, bands that are too big or loose can cause the breasts to become dislodged from the cup. According to Dr. Herte, the bra band should be relatively tight and create a "flat" effect around the rib cage to ensure proper support.
2. If you go down a band size, always go up a cup size.
A bra's band size and cup size work together to create a secure fit. As such, if your new implants warrant a new band size, your cup size needs to change as well. For example, a patient who is currently wearing a 34D cup but wants to go down a band size would benefit from increasing their cup size to a 32DD. This sizing strategy can help keep the breasts in place for patients who desire a tighter band with the same cup fit.
3. Bra sizes vary.
At the Herte Center for Cosmetic Surgery, we offer breast implants of several different types, shapes, and sizes in order to suit each patient's physique. Just as the sizes and types of implants vary considerably, so will cup sizes — a bra from one store may fit differently than other brands, even if the numerical measurements are technically the same. Dr. Herte urges her patients to remember that numbers and sizes will not always be consistent, so it's often ideal to prioritize the way a bra feels rather than its specific measurements.
Furthermore, Dr. Herte reminds patients that it is normal to have a lot of questions following a breast enhancement procedure. If you are interested in learning more about pre- or post-surgical guidelines for breast augmentation, feel free to contact the Herte Center for Cosmetic Surgery today.