Time to Tuck That Tummy?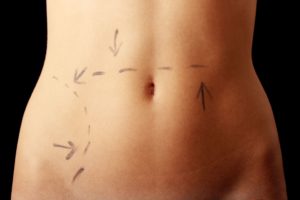 Time and tummy are not friends. It's not that you can't have a flat tummy as you get older, but it is much harder than when you're young. Your abdominal muscles at 50 simply aren't what they were at 20. Plus, if you were once heavier and have lost the weight, your skin and muscle often maintain a certain amount of  looseness, a pooch.
And that's not even addressing those who've had children. The weight gain and muscle/skin stretching that accompanies pregnancy, no matter if you lose every pound of your baby weight, can leave you with a little pooch, too.
If only there was some sort of Spanx for our tummies!
There is — a tummy tuck with Dr. Herte.
What is a tummy tuck?
A tummy tuck sculpts your waistline by removing loose skin and tightening abdominal muscles. Plus, if Dr. Herte adds liposuction to your procedure, you can say goodbye to those stubborn fats pockets in the abdomen area as well.
As with all of her procedures, Dr. Herte treats every tummy tuck as a unique situation for each patient. Using her extensive surgical experience Dr. Herte can offer patients a variety of different tummy tuck options.
Also known as a limited incision abdominoplasty, a mini tummy tuck targets the lower abdomen. A mini tummy tuck can be perfect for those who have a bulging lower belly, but don't have much, if any, excess skin.
A full tummy tuck is the way to go if you have a good deal of loose abdominal skin, both above and below the belly button. In a full tuck, Dr. Herte will remove the section of excess skin and fat, and she will tighten the entire length of the underlying sit-up muscles for a shapelier waistline.
To create the flat abdomen everyone wants, Dr. Herte combines skin removal with repair of your abdominal muscles. When she does this patients not only have a tighter abdomen, but these muscles can now do more to support the lower back so chronic lower back pain can go away along with your bulge. In many cases, patients can achieve "six-pack abs" after this muscle repair.
Dr. Herte can also combine ultrasound skin tightening with a full or mini tummy tuck to further enhance your results. When ultrasound energy is delivered into the dermis layer the body responds as if wounded by firming the skin above and producing new collagen.
Combining a tummy tuck with liposuction can definitely improve your contour. This isn't just in the abdomen area, either. Patients can opt to have additional areas of liposuction added to their tuck, areas such as the flanks or backside of the hips, to improve the whole circumference of the waist area.
Are you over that pooch? Call Dr. Herte at 702-732-9600 to set up a consultation for a tummy tuck.