What Are the Risks of a Brazilian Butt Lift?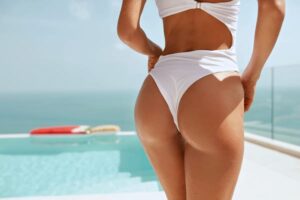 The Brazilian butt lift, or BBL, is a procedure that has gained popularity over the years due to patients wanting fuller, more shapely buttocks. This technique involves harvesting fat from one area of the body, such as the abdomen or flanks, via liposuction and transferring it into the buttocks. Although this procedure is offered by many plastic surgeons, Dr. Mary Herte believes the risks associated with the Brazilian butt lift are far too great to be worth any aesthetic improvement it can provide.
While every surgery comes with some degree of risk, the Brazilian butt lift has been found to lead to more severe complications that can be long-lasting. This includes, but is not limited to, the following:
Excessive blood loss
Blood clots
Deep vein thrombosis
Fat embolism
Fat necrosis
Seroma
Hematoma
Infection
In addition, many patients cannot achieve satisfactory results from Brazilian butt lift surgery because the procedure requires a significant amount of fat volume to achieve noticeable results. Since patients who typically request this procedure often don't have enough fat to spare for liposuction, achieving the desired outcome is not always possible.
Due to these risks, Dr. Herte believes it is in patients' best interest to consider alternatives to the Brazilian butt lift. At the Herte Center for Cosmetic Surgery, Dr. Herte performs a variety of body lift procedures, including buttock and thigh lifts to enhance the size and shape of the buttocks. This surgery includes removing excess skin and lifting the remaining tissue to improve the overall appearance of the buttocks.
If you are interested in enhancing your buttocks, Dr. Herte recommends doing your research and seeking a board-certified plastic surgeon. She says it is essential to be well-informed about any procedure you plan to undergo so you can properly weigh the risks to your long-term health.
To learn more about butt lift surgery, please contact our office to schedule a consultation with Dr. Herte.