Don't Forget About Your Neck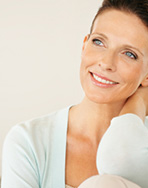 When people look in the mirror and see the signs of aging — crow's feet, smile lines, the 11s, eye bags, and the like — usually they're looking at their face. To combat these signs, they may have a facelift, eyelid surgery, Botox for their forehead, fillers for their smile lines and other procedures.
When taking their assessments, they often overlook the neck. But because of its anatomy, the neck is one of the first areas of the body to really show signs of aging. If you take care of your face without any attention to your neck, you're only doing half the job.
A neck lift with Dr. Herte is often a good second procedure to include with a facelift.
A neck lift addresses loose neck skin, excess fat under the chin, excess skin and sagging skin in the lower face, and muscle banding in the neck. During a neck lift, excess skin and fat are removed and the underlying tissues are restructured. A neck lift is an effective treatment that will restore your neck line definition.
Is a neck lift right for you?
People who are showing their age beneath the chin and down the neck are good candidates for a neck lift. If this is the location of your aging, a full facelift probably isn't necessary. Dr. Herte could recommend a mini facelift combined with a neck lift.
The procedure
In neck lifts with Dr. Herte the age of the patient often dictates where the incisions are made. For younger patients without a great deal of excess skin, the incision is made under the chin. In these cases, mainly excess fat is removed and the muscles are tightened to improve the contour. If a patient is older, the incisions are made behind the ear lobe on each side extending into the hairline. Excess skin and tissue are pulled up and trimmed. The underlying tissues are repositioned and the skin is then re-draped. Dr. Herte also pays particular attention to looseness in the deeper muscles. Without paying attention to these muscles, the quality and duration of your results will be impacted.
Recovery
After your procedure, Dr. Herte will apply a dressing/garment to provide support, minimize swelling and help your skin adapt to its new contours. There will definitely be swelling and bruising, but it will fade in one to two weeks. Recovery from a neck lift isn't as fast as some procedures. Most people return to their day-to-day activities and work after two weeks or so.
Dr. Herte believes a defined, firm neckline is an essential part of the facial rejuvenation most patients seek. A neck lift achieves this. Call us at 702-732-9600 and set up your consultation.