Las Vegas Plastic Surgeon Shares What to Look for in a Cosmetic Surgeon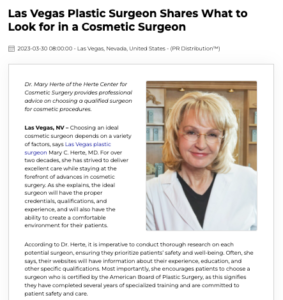 Dr. Mary Herte of the Herte Center for Cosmetic Surgery provides professional advice on choosing a qualified surgeon for cosmetic procedures.
Las Vegas, NV – Choosing an ideal cosmetic surgeon depends on a variety of factors, says Las Vegas plastic surgeon Mary C. Herte, MD. For over two decades, she has strived to deliver excellent care while staying at the forefront of advances in cosmetic surgery. As she explains, the ideal surgeon will have the proper credentials, qualifications, and experience, and will also have the ability to create a comfortable environment for their patients.
According to Dr. Herte, it is imperative to conduct thorough research on each potential surgeon, ensuring they prioritize patients' safety and well-being. Often, she says, their websites will have information about their experience, education, and other specific qualifications. Most importantly, she encourages patients to choose a surgeon who is certified by the American Board of Plastic Surgery, as this signifies they have completed several years of specialized training and are committed to patient safety and care.
Top surgeons will sometimes be affiliated with other boards and associations, as well — e.g. the American Society of Plastic Surgeons or the American College of Surgeons. Dr. Herte also advocates that each patient makes sure their surgeon has studied, earned degrees, and completed training at reputable institutions. In addition, she suggests patients research any accolades a surgeon may have earned, as this can provide a glimpse inside their reputation and expertise and prove that they have delivered top results.
During the research process, Dr. Herte continues, patients should be sure to read their surgeon's testimonials and patient reviews. This is often where the most relatable information will come from, says Dr. Herte, as patient reviews provide firsthand insight into the surgeon's operating style, bedside manner, and even personality. Dr. Herte also stresses the importance of reviewing the surgeon's patient gallery, particularly before-and-after photos related to the surgery in which they are interested, such as breast augmentation, liposuction, or tummy tuck surgery. By considering all of these factors, she believes prospective patients can find a surgeon that is not only highly qualified, but is a right fit for their individual needs.
About Mary C. Herte, MD
Dr. Herte has helped redefine the plastic surgery field for female surgeons. She began her career at a time when not many females pursued a career in plastic surgery, but was able to help change that fact with her passion and well-tuned skill. In fact, she was the first female to become certified by the American Board of Plastic Surgery in Nevada. She is a graduate of ​​Mount Mary College, Milwaukee and the Medical School at the University of Wisconsin, Madison, where she completed her medical degree, general surgery residency, and plastic surgery fellowship. Additionally, she is a Fellow of the American College of Surgeons, as well as a member of the American Society of Plastic Surgeons, The Aesthetic Society, and several other distinguished organizations. She is a recipient of New Beauty Magazine's "Top Female Doctor" award and the "Woman of Distinction" award from Soroptimist International of Greater Las Vegas, and has received the TALK Customer Service Award for an astonishing 12 years in a row.
Dr. Herte puts patient communication at the forefront of every procedure and believes a foundation of trust is essential to every surgeon-patient relationship. She is available for interview upon request.
For more information about Dr. Herte and her practice, please visit hertecenter.com or on Instagram at @hertecenter.
Contact:
Herte Center for Cosmetic Surgery
7281 West Sahara Ave, Suite 100
Las Vegas, NV 89117
702-732-9600
Rosemont Media
(800) 491-8623
www.rosemontmedia.com