When Enough is Enough — Breast Reduction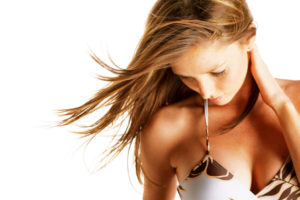 With the number of breast augmentation procedures increasing every year, it may seem odd that a woman would opt to have her breast size decreased. But the truth is overly large breasts can become a burden, both physically and emotionally. In these cases, Dr. Herte performs breast reduction surgery to make the breasts smaller, more uplifted, and more proportionate with the rest of the body.
A pain in the neck…. and other places
Overly large breasts, especially when they are more glandular in nature, can be a pain in the neck, literally. And the back and the shoulders and on the psyche. Having large breasts can feel like wearing a backpack every day, only on the front side. Your bra straps dig into your shoulders. Your back struggles to balance the weight. They can lead to sores and other issues where the breasts rub on the skin beneath them.
Having extra large breasts, many women miss out on exercise classes and sports. Their breasts just get in the way.
And they can impact a woman's self-esteem. Continual undo attention to their chest can make women shun social situations.
Beyond cosmetic benefits
Breast reduction surgery goes far beyond the cosmetic aspects. The procedure often is life changing. Gone are the constant attempts to cover up the breast area. Now, the patient finds she can wear lots of fashionable clothes that were formerly off limits. Exercise classes such as Zumba now aren't an exercise in torture. Reduction surgery often turns out to enrich the life of the patient.
Different reduction techniques
There are different methods Dr. Herte uses for reduction surgery
Traditional — In this technique, an anchor-shaped incision is made beginning around the areola and traversing down to the crease at the bottom of the breast and then outward in both directions along that crease. This is ideal for women with extremely large breasts. Skin, fat, and excess tissue is removed and the nipples and areola usually re-positioned.
Limited incision — Also known as modified, this technique involves incisions that extend around the areola and down to the breast crease in a lollipop shape, among other limited incision options. This method works well when extensive tissue removal isn't required.
Patient specific — Also known as customized, Dr. Herte listens to her patients in regards to aesthetic goals, lifestyle and expectations. This allows her to create a unique plan for each patient.
If you're tired of the burden of overly large breasts maybe it's time to consider reduction surgery. Call Dr. Herte at 702-732-9600 to schedule your consultation.